How to Promote Your Blog on Social Media: Best Tips and Practices
Sharing your content on social media is an excellent way to promote your blog, get more shares, and ultimately drive more traffic to your site.
But you need to have a social media strategy in place before you start sharing:
Choose the most relevant social networks for your blog.
Engage with people on those networks and build relationships.
Contribute to social media groups to share your expertise.
Social media is a two-way communication channel. Don't just rock up at your chosen social network, blast a message, and leave. Take your time in-between sharing your content to engage with others.
You can probably garner a lot of useful social media info based on your own social habits, but consciously keeping your finger on the pulse of social conversation (think of it as honing your social listening skills) will help you better understand how to launch your social media plan of attack to build your site traffic.
Plus, social media is always changing and evolving, so you need to be in tune with social platforms to keep up with the most effective marketing methodology for each one. Don't sweat algorithms too much, just keep learning and testing what works best for your audiences.
Social media channels also present a useful two-way system of accepting user feedback and gathering relevant user-generated content.
Using social media as a marketing tool doesn't have to be tricky. We'll walk you through some social media marketing best practices, then investigate how you can you utilize each unique social channel to promote your content and start building traffic on your blog.
Buckle up — and grab a pencil: it's time for Social Media Marketing 101.
There are plenty of social media networks to choose from, and it's no surprise to see Facebook is the most popular: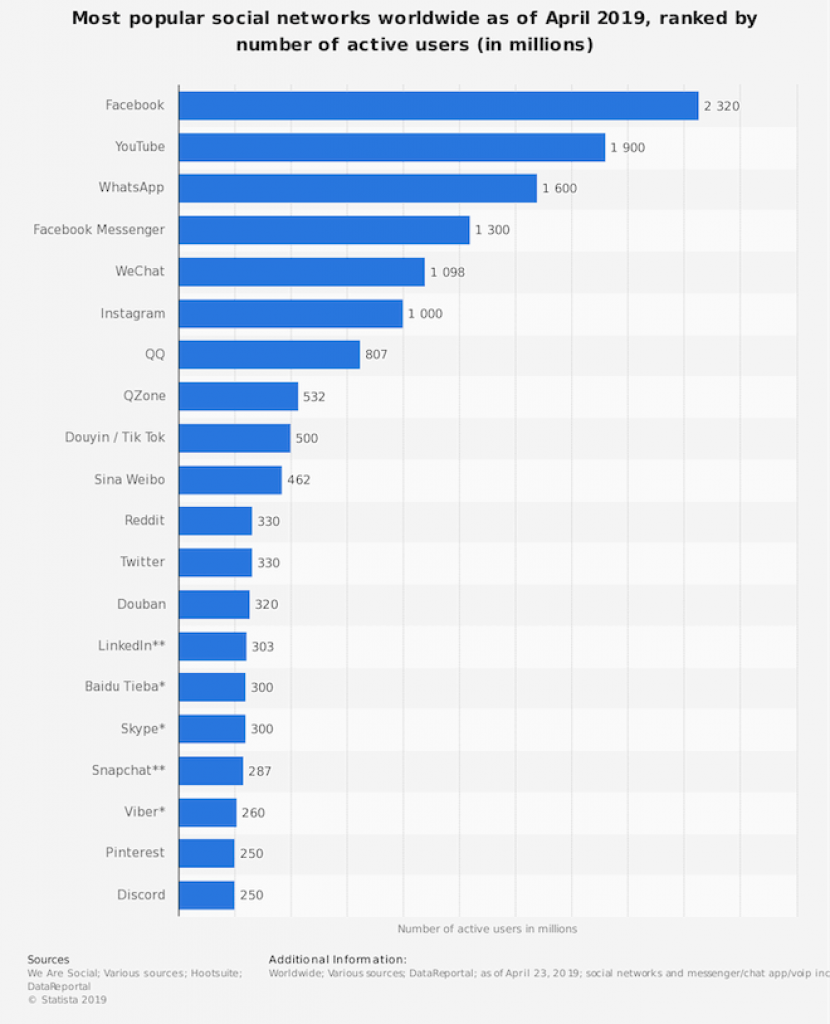 But it pays to select a few that are relevant to your niche and concentrate on those rather than spreading yourself too thin across.
Pew Research has some useful demographic data if you're unsure where your target might hang out.
For example:
Instagram (67%) and Snapchat (62%) are popular among young people aged 18-29. But, on the other hand, Facebook is popular across all age ranges.
Other demographic patterns show that women (42%) are almost 3 times more likely to use Pinterest than men (15%).
Around half of college graduates and those who live in high-income households use LinkedIn, compared with 10% or fewer of those who have not attended at least some college or those in lower-income households.
Pro Tip: Remember to vary your content according to each social network. For example, Pinterest works best with tall images (600 x 900px) whereas Facebook uses wide images (1200 x 628px). Use short messages on Twitter and longer posts on LinkedIn.
2. Join (Or Start Your Own) Social Media Groups
Social media groups give you a great opportunity to jump in and share your expert knowledge. Establishing yourself as a go-to resource helps build trust, and group members are more likely to visit your blog for more resources.
The key is to join social media groups that are relevant to your industry. For example, if you run a cooking blog, it makes sense to join groups related to cooking, rather than groups related to general blogging.
If you can't find a group in your niche, then why not consider starting one? For example, WPBeginner launched a WordPress Group providing help for non-techies that now has over 20k members:
Imagine promoting your blog to an audience that size!
Warning: It takes a lot of work to run a large group, so make sure you have the bandwidth.
Another social media avenue to explore is Pinterest Group Boards and Tailwind Tribes. Both of these can help to promote your blog and attract more visitors to your site.
3. Use Reciprocal Sharing Sites
Reciprocal sharing sites like Viral Content Bee and Triberr work on a system of credits. When you share other people's content, you earn credits, which then lets you post your content, and in turn, gets shared by other people.
4. Try General Social Bookmarking Sites
Social bookmarking sites like Reddit and Flipboard let you post your favorite content (including images and videos), and use tags to organize them. Other users can then add your posts to their boards and share them with their audience.
These sites typically have a voting system where users can upvote their favorite posts. If your post gets shared or upvoted, you can expect to see more traffic visiting your blog.
Niche social bookmarking sites serve industry-specific communities. Sharing your content in these communities means you'll attract and engage like-minded people. Here are a few examples niches:
Reddit is one of the biggest online communities, with an estimated 17 million monthly users and also has subreddits which offer more interest-based niches.
6. Engage
Can't put enough emphasis on this! Even if you have a huge following and connects on social, you won't be able to convert them into your audience until you engage with them!
Comment, share, like and engage with your followers in all possible way. Message them a link of your blog. Ask them what they liked and more importantly what they didn't! This will help your readers to know you personally as well as help you understand your readers better!
7. Connect to Influencers
Regardless of the industry, you are related to; you will find certain people to be more active on social media. These highly active members are termed as influencers, and they often tend to have a high number of followers. It would be beneficial for you if you establish a connection with them and convince them to share your post on their network.
Simply find the influencer of your niche and start engaging them in the most natural way. You don't need to sound like a greedy marketer who is trying to gain benefits with other's effort. Reply and comment on the posts that interest you and your next step will be including them in your posts. If you are giving them advantages for free, there are 100% chances that they publish your content in their network. Also, provide them with a opportunity to post on your website and encourage them to promote it.
8. Befriend your fellow Bloggers
You are more likely to succeed if you are a part of a blogger community. To be specific, cross-promote content to reach a wider audience. Try and connect to people from the industry as you, with the similar profession,and collaborate. If things go well, you might share their audience. However, the approach should be utterly professional and value-oriented.
Here is how you should approach:
Create a List
Listicles are the most brilliant form of content, and if you can create a post saying – top 10 bloggers mentioning and linking each blogger's name, it is going to work in your favour.
Share their Content
Read the blogs by your fellow bloggers and appreciate the information shared. Twitter is the best place to do so as you can quickly mention their name and post a comment. Once you do so, the fellow blogger will get a little familiar to your name and might surf your profile and click on the blog linked to your profile. The chances are high that they return the favour by promoting one of your content. Make sure to @mention the blogger's Twitter handle. You can also post comments on the post page, but this method will immediately let the blogger know who is commenting. If you have your blog's URL on your Twitter bio (there is no reason why you shouldn't have it), the blogger will definitely check out your blog and possibly return the favor in a similar fashion.
List the Experts
Create a 'Top 10 List of Bloggers In (Your Niche)" post and link back to the bloggers. They are definitely going to acknowledge a link back and post about it on their various social media presences.
You could also follow this method for experts in your niche who don't have a blog. A mention may inspire them to share your post on their various social media profiles.
Invite bloggers in your niche to guest write on your blog and return the favor by guest writing for them. This not only gives you links from your niche but also an opportunity for your blog to feature in their social media shares and updates.
You can join the viral content buzz community and make your content go viral by participating in mutual content distribution via social media channels.
9. Be Business Minded
Even if you are not peddling a product, you are selling something when promoting your blog: your content (and your brand) — so maintain a business mindset when deciding what, when, and why to post. You don't have to be ridin' solo when marketing on social media. Likely, you will connect with other like-minded sites or businesses with whom you can mutually benefit in your work to promote your brands. Whether your partnering up for guest content on each other's blogs, or simply promoting others' posts, tag-teaming is always a good idea.
10. Don't be a Spammer
Less is more! Know when to stop. Some of the users complain about their Twitter users sharing too much content. Sometimes people keep sharing the old contents every hour and this particular strategy might lead to a few clicks, but in the end, it will only be hazardous, annoying your regular followers. Stick to these rules if you want to avoid this ugly situation:
Know what your followers like to see and when they are more likely to visit your profile.
Rather than a crowded schedule, stick to a smart one
Get into the follower's shoe and see what you would like to read
Never force something on your followers that you would dread to take
Always provide value to your post, no fluff at all.
Conclusion
If you want your blog to compete on social media sites, you need to say something worth listening to. In other words, be awesome.
This is the downside of social media. Everyone now has a voice. Which ups the ante for those wanting to communicate and be heard in this space. You either have to be really specific or really radical. Maybe both.
Personally, we like this new rule. It means that playing it safe is no longer an option. If you don't break some rules, you can do all of the above and still fail. This means that the great writers and communicators will start rising to the top.
Just know this: each social media platform offers you different ways to promote your blog. Not only do they differ by algorithms and operating models but also on character limits and image sizes, community interaction, main demographics and the tactics that make marketing efforts successful on each one. It will take time to find your social groove (and to stay on top of ever-changing social trends and models), but putting your best efforts into promoting your blog on social media will lead to your end-of-the-rainbow gold: more eyes on your A+ blog. Score!
Have you seen how social media can boost your blog traffic? How? Share in the comments.
Buy Targeted Traffic That Converts - Real Human Website Traffic
Reviewed By:
Review Date
Reviewed Item
BuyTargetedTrafficThatConverts.com
Author Rating